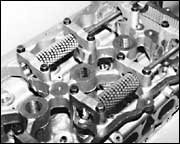 BRM's Flex-Hone Tool is protected by...
USA Patent Numbers 3384915, 3871139, 5211725, 5353553
US & Foreign Patents Allowed or Pending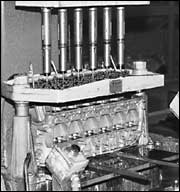 For Any Type And Size of Cylinder...

The Flex-HoneŽ Process (Super finishing) produces a controlled surface condition unobtainable by any other method. It involves finish, geometry and metallurgical structure. A high percentage plateau free of cut, torn and folded metal (with radiused ports).
A resilient, flexible, honing tool with a soft cutting action. The abrasive (points) globules each have independent suspension that assures the Flex-HoneŽ to be self-centering, self aligning to the bore, and self-compensating for wear.
Specifically, it is a low-temperature abrading process that exposes the undisturbed base metal structure to produce a long wearing surface. It is a method of developing a surface on a metal part which is optically smooth and metallurgically free of any fragmented, amorphous or smeared metal from previous operations. It is accomplished at a low pressure where the "stones" float across the surface. The final achieved finish ensures a superior performance in situations dependant on the condition of the surface.
The particular type of Flex-HoneŽ crosshatch is extremely efficient in providing a multiplicity of oil grooves or valleys for oil retention as opposed to the often undirectional or uneven valleys common to the conventional type rigid hone. A crosshatch that usually remains as the cylinder wall has been wear-reduced by the FlexHoneŽ.

WHAT'S NEW with HONE TOOLS...

The Diamond Flex-Hone tool is designed for use on any type or size of cylinder from 4mm up to 20mm in diameter. Other sizes are available by special order. Designed for surface finishing and cross hole deburring of harder materials such as carbide, ceramic and space age alloys. This remarkable new Flex-Hone is an efficient solution to your toughest applications. Available in three different grit selections. NOTE: Order by bore size, 4mm- 3/16 are 6" OAL 5mm-20mm" are 8" OAL
If Your Specifications Call For: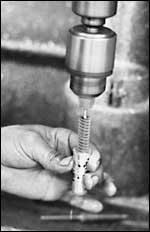 Developing a surface plateau of over 60%
Producing an oil holding cross-hatch pattern
Reducing Ra, Rpk and Rvk values
Increased bearing area
If You Want benefits of:
Lowered oil consumption
Less blow-by
Less friction
Improved sealing surface